3/9 - The Spring Standards Head SouthXSW!
Posted on March 09, 2011
South by SouthwHAAAAAAAAATTTTTTT?!?

We're writing this from the backseat of a van traveling twice the speed of sound, hurtling towards St. Louis. We had a great continental breakfast this morning in Indianapolis and we'll be in Arkansas before the day is through. DRIVING DRIVING ALWAYS DRIVING! Fayetteville tonight and on to Denton, TX tomorrow for the start of 35 Conferette! We're so excited for this festival, tons of amazing bands are playing and Denton is definitely one of the coolest places you've (maybe) never heard of. It will be the perfect not-quite-calm before the storm of SXSW next week - wooohoooo! It's not too late to throw caution to the wind and buy a plane ticket down to Austin folks! We promise it'll be worth your while, if only for the food!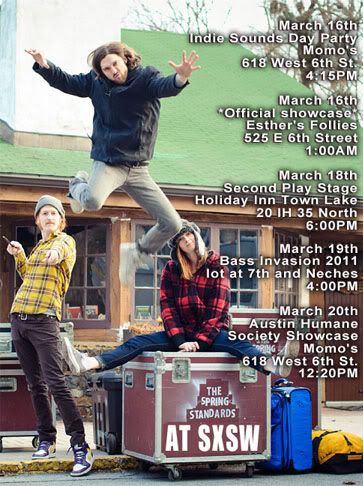 After SXSW, we're excited to see our friends in Dallas, Little Rock and, of course, Ann Arbor as we head back east, where we will sit still for one week before hitting the road AGAIN in a major way for our tour with the action-packed HA HA TONKA!! This tour is going to be an absolute blast and if it's been a while since you've gotten a Standards fix, we recommend you try to catch us with this band (full tour dates below). We'll be playing new material and just kickin' it so hard with these awesome guys, whose music you will LOVE. Don't miss these shows!! And to hold you over, download a few songs from each band on the tour here, http://doadtoursampler.bandcamp.com

Thanks so much to all of you who have played postcard trivia these last few tours - it's been so much fun! We've decided we're gonna save up our trivia questions for April and think up some different stuff for this month, so be on the look-out for secret surprises and fun things from the road! We're also gonna be updating our blog regularly, so check out leadsledsaid.blogspot.com whenever you get bored at work!

Alright, I guess that's everything for now - I should really get back to driving. I've been behind the wheel this whole time.

You're all magical,
JHJ

-----------------------
Full Tour Dates

Wed, Mar. 9 - Rogue - Fayetteville, AR - more info
Fri, Mar. 11 - Dan's Silverleaf - 35 Conferette Festival - Denton, TX - more info
Wed, Mar. 16 - Indie Sounds Day Party - SXSW - Momo's - Austin, TX - more info
Wed, Mar. 16 - Esther's Follies - Official SXSW Showcase - Austin, TX - more info
Fri, Mar 18 - Second Play Stage - SXSW - Holiday Inn Town Lake - Austin, TX - more info
Sat, Mar 19 - Bass Invasion 2011 - SXSW - Austin, TX - more info
Sun, Mar 20 - Austin Humane Sociey Showcase - SXSW - Momo's - Austin, TX - more info
Tue, Mar. 22 - Club Dada - Dallas, TX - more info
Wed, Mar. 23 - Stickyz - Little Rock, AR - more info
Fri, Mar. 25 - The Ark - Ann Arbor, MI - more info
Thu, Mar. 31 - Bates College - The Benjamin Mays Center - Lewiston, ME - more info
Tue, Apr. 5 - The Intersection - Front Lounge - Grand Rapids, MI - w/Ha Ha Tonka - tix
Wed, Apr. 6 - Southgate House - Parlour - Newport, KY - w/Ha Ha Tonka - tix
Thu, Apr. 7 - Rumba Cafe - Columbus, OH - w/Ha Ha Tonka - tix
Fri, Apr. 8 - The Red Palace - Washington, D.C. - w/Ha Ha Tonka - more info
Sat, Apr. 9 - M Room - Philadelphia, PA - w/Ha Ha Tonka - more info
Tue, Apr. 12 - Great Scott - Allston, MA - w/Ha Ha Tonka - tix
Wed, Apr. 13 - Mercury Lounge - New York, NY - w/Ha Ha Tonka - tix
Thu, Apr. 14 - Club Cafe - Pittsburgh, PA - w/Ha Ha Tonka - tix
Fri, Apr. 15 - Beachland Ballroom Tavern - Cleveland, Oh - w/Ha Ha Tonka -tix
Sat, Apr. 16 - Subterranean - Chicago, IL - w/Ha Ha Tonka - tix
Sun, Apr. 17 - The House Cafe - Dekalb, IL - tix
Mon, Apr. 18 - Wildwood Station - Marshfield, WI - more info
Tue, Apr. 19 - Varsity Theater - Minneapolis, MN - w/Ha Ha Tonka - tix
Wed, Apr. 20 - The Frequency - Madison, WI - w/Ha Ha Tonka - more info
Thu, Apr. 21 - The Mill - Iowa City, IA - w/Ha Ha Tonka - more info
Fri, Apr. 22 - Off Broadway - St. Louis, MO - w/Ha Ha Tonka - tix
Sat, Apr. 23 - The Record Bar - Kansas City, MO - w/Ha Ha Tonka - tix
Sat, May 7 - Purple Fiddle - Thomas, WV - more info - For the Love of Music Benefit