12/2 - Paste Video Premiere of "The Hush!"
Posted on December 02, 2010
PPPAAASSSSTTTEEEE!!!!!!
**to be said like a martial arts warrior screaming just after a brutal battle.**

We've lost it. It's done. We now do nothing but spend our days dressed as cowboys aimlessly walking around the city of New York.

On one of these days we were being followed, and Paste Magazine has put it up on their website.
So ladies and gentlemen I would like to announce where you can find this video. People are calling it a "Music Video" of "The Hush." But we're calling it... "Just another day as an insane person."

TO SEE IT.... HERE'S WHERE YOU GO!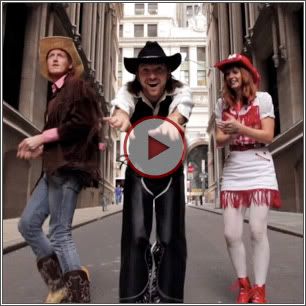 On another note, we're rounding the end of this tour with Meg and Dia and Joey Ryan.
It's been such a blast, and we've made lots of new friends. So to all of you... thanks, and it has been a pleasure getting to know you.

Once we're back in NYC, we have a few more one off shows that we think are gonna be super fun.

Mon, Dec. 13 - The Rock Shop - 8pm - w/The Civil Twilight - more info
249 4th Avenue / Brooklyn, NY 11215 / 21+
Sat, Jan. 15 - NightCat - 8pm - tix
5 Goldsborough Street / Easton, MD 21601 / All Ages
Sun, Jan. 16 - Purple Fiddle - 8:30pm - more info
21 East Avenue / Thomas, WV 26292 / All Ages
Fri, Jan. 28 - The Ark - Ann Arbor Folk Festival - 6:30pm - w/The Avett Brothers, The Swell Season & more - tix
Hill Auditorium, 825 N. University Avenue / Ann Arbor, MI 48109 / All Ages

So...hopefully see you round the bend friend,
~JHJ

p.s. We've extended the deadline to submit your video of "Reply" for another week. The new deadline is Dec. 10th. Here's everything you need to know:
Send us a video of you singing along to the recording of 'Reply' from our EP No One Will Know. Get as creative as you want to, no need to be a professional, just have fun!! List the full names of anyone featured in your video and we are going to put all the videos we receive together to make a massive party of a music video. Simply email a LINK (yousendit, sendspace, etc.) to download your video to SSReplyVideo@brickwallmgmt.com in order to submit! PLEASE DO NOT SEND ACTUAL FILES…JUST LINKS TO DOWNLOAD!

-----------------------
Full Tour Dates

Thurs, Dec. 2 - The Beat Kitchen - Chicago, IL - w/Meg + Dia & Joey Ryan - tix
Fri, Dec. 3 - The House Cafe - Dekalb, IL - w/Meg + Dia & Joey Ryan - tix
Sat, Dec. 4 - Triple Rock Social Club - Minneapolis, MN - w/Meg + Dia & Joey Ryan - tix
Mon, Dec. 13 - The Rock Shop - Brooklyn, NY - w/The Civil Twilight - more info
Sun, Dec. 26 - Arden Gild Hall - Arden, DE - tix
Sat, Jan. 15 - NightCat - Easton, MD - tix
Sun, Jan. 16 - Purple Fiddle - Thomas, WV - more info
Fri, Jan. 28 - The Ark - Ann Arbor Folk Festival - Ann Arbor, MI - w/The Avett Brothers, The Swell Season & more! - tix