11/12 - Postcards, Punches and Videos
Posted on November 12, 2010
ok friends. there's a lot of information in this email, so put on your 'attention-span-enhancing cap' (a slight variation on the 'thinking cap') and get comfy!

first things first: some of you have already joined in the fun, but for those of you who don't compulsively check our facebook or follow us on twitter (we can't imagine why you wouldn't want to do both these things), we're doing something new and exciting this tour! every show day of the tour with meg & dia we're playing a game called POSTCARD TRIVIA! sound self-explanatory? that's because it is! here's the skinny - we'll post a trivia question on either facebook or twitter at a pre-determined time (times change daily, but we'll give you at least a few hours advance warning!), and the first person to respond with the right answer gets a postcard from the city we're playing in that night!! we've already had two winners and it's been a lot of fun. so brush up on your standards trivia and join the social network party!

next: we want to make a new music video starring...YOU! here's what we would love - send us a video of you (and your friend, and your dog, and your grandma, WHOEVER!) singing along to the recording of 'Reply' from our EP No One Will Know. Get as creative as you want to - wear costumes, ride bicycles, do sign language - anything at all!! List the full names of anyone featured in your video and we are going to put all the videos we receive together to make a massive party of a music video. IT'S GONNA BE AMAZING!! YES YES YES!! Simply email a LINK (yousendit, sendspace, etc.) to download your video to SSReplyVideo@brickwallmgmt.com in order to submit! PLEASE DO NOT SEND ACTUAL FILES…JUST LINKS TO DOWNLOAD! we'll be accepting submissions until the end of the month, but don't wait until the last minute! this isn't your chemistry homework or your taxes people!! this i s real-life-collaborative-magic-making!
LASTLY: we are starting another fun thing this tour. to put it simply, we are starting a coffee club for our band. what in the world do we mean by that? well, you know how a coffee club works, right? you get a card from your local coffee shop and every time you buy a coffee you get a hole punched in your card and eventually you get a free cup of coffee. well imagine that philosophy applied to...EVERYTHING OUR BAND DOES!!! i'll be more specific - see, we've got these neat punch cards that we're going to have at our merch table from now on. here's how they work:

did you come to see our show? you get a PUNCH!
did you bring a friend? you get a PUNCH!
did you buy a merch item at the show? PUNCH!
(now, here's where it gets really interesting...)
did you put up a poster for our show? bring a photo and get TWO PUNCHES!
did you get a local radio station to play one of our songs? bring their online playlist and get THREE PUNCHES!!
did you do something so fabulous and unexpected to get people to our show that we couldn't even imagine it? Tell us about it and we'll decide how many punches you get for it! (Feel free to be uber creative spreading the love)

what marvelous prize can you expect for filling up a card or two or three??!
Well, see below (all the details will be up on our website soon, we'll keep you posted):
REWARDS FOR PUNCHES:
*10 punches (full card) gets your choice of: a song request and dedication during a show (if you catch us pre-show), one-on-one performance of a requested song (we'll even video us singing to you!), we'll record an answering machine outgoing message, OR grab bag!
*20 punches gets you a signed limited edition poster!
*30 punches gets you a custom t-shirt made by us just for you!
*50 punches gets you 2 comps to the show of your choice! (some limitations may apply)
*100 punches and we'll write you a song!
still with us? still reading and awake? hopefully so - we need each and every one of you to make these hair-brained schemes take flight!!

mucho amor,
jamesheatherjames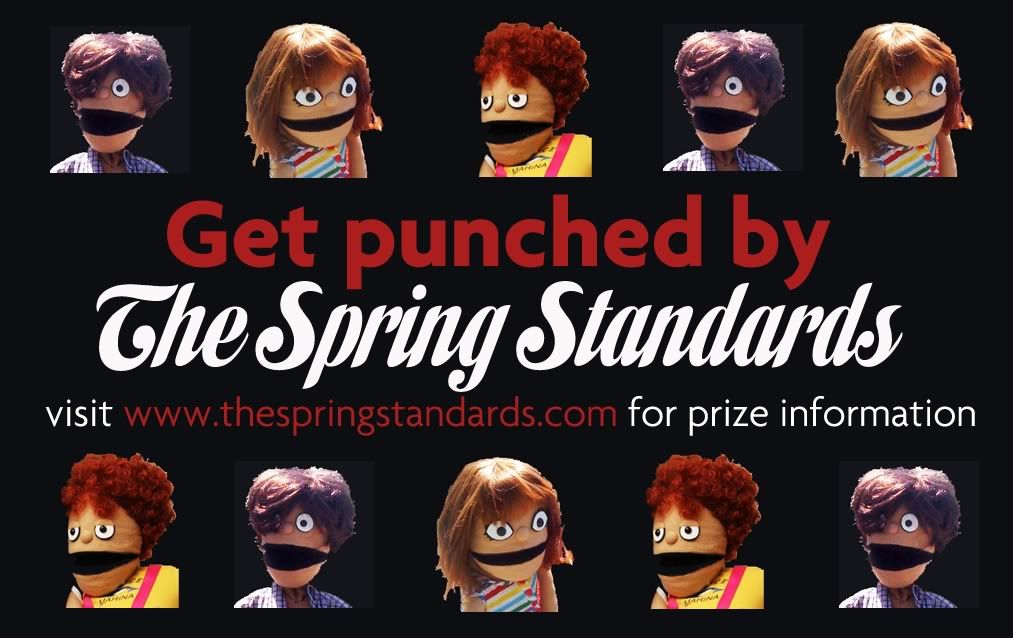 -----------------------
Full Tour Dates

Fri, Nov. 12 - Red Rock Coffee - Mountain View, CA - FREE!!!
Sun, Nov. 14 - Saint Rocke - Hermosa Beach, CA - w/Meg + Dia & Joey Ryan - tix
Mon, Nov. 15 - Epicentre - San Diego, CA - w/Meg + Dia & Joey Ryan - tix
Tues, Nov. 16 - Martini Ranch - Scottsdale, AZ - w/Meg + Dia & Joey Ryan - tix
Thurs, Nov. 18 - White Rabbit - San Antonio, TX - w/Meg + Dia & Joey Ryan - more info
Fri, Nov. 19 - Shadowplay Lounge - The Woodlands, TX - w/Meg + Dia, Joey Ryan & Adelaine - more info
Sat, Nov. 20 - Hailey's - Denton, TX - w/Meg + Dia & Joey Ryan - tix
Sun, Nov. 21 - The High Ground - Metairie, LA - w/Meg + Dia & Search for Atlas - more info
Tues, Nov. 23 - The Social - Orlando, FL - w/Meg + Dia, Solaseria & The Whale and The Wave - tix
Wed, Nov. 24 - The 7 Venue - Douglasville, GA - w/Meg + Dia & Search for Atlas - tix
Fri, Nov. 26 - Maxwell's - Hoboken, NJ - w/Meg + Dia & Joey Ryan - tix
Sat, Nov. 27 - The Barbary - Philadelphia, PA - w/Meg + Dia & Joey Ryan - tix
Sun, Nov. 28 - The Studio @ Webster Hall - New York, NY - w/Meg + Dia & Joey Ryan - tix
Tues, Nov. 30 - The Pike Room @ Crofoot Ballroom - Pontiac, MI - w/Meg + Dia & Joey Ryan - tix
Wed, Dec. 1 - The Basement - Columbus, OH - w/Meg + Dia & Joey Ryan - tix
Thurs, Dec. 2 - The Beat Kitchen - Chicago, IL - w/Meg + Dia & Joey Ryan - tix
Fri, Dec. 3 - The House Cafe - Dekalb, IL - w/Meg + Dia & Joey Ryan - tix
Sat, Dec. 4 - Triple Rock Social Club - Minneapolis, MN - w/Meg + Dia & Joey Ryan - tix
Sun, Dec. 26 - Arden Gild Hall - Arden, DE - more info