5/4 - New Tour Dates Announced!
Posted on May 04, 2010
Wakey Wakey everyone!

hahahahaha. aw man. good stuff. it's funny cause that's the band we're touring with this June.

We've pieced together a crew of 6 miniature donkeys and an artificial life form to carry all of our gear. So if you like mini things and things that only exist in the future, stop on by and bring your summer smiles.

We hope to get to see you soon.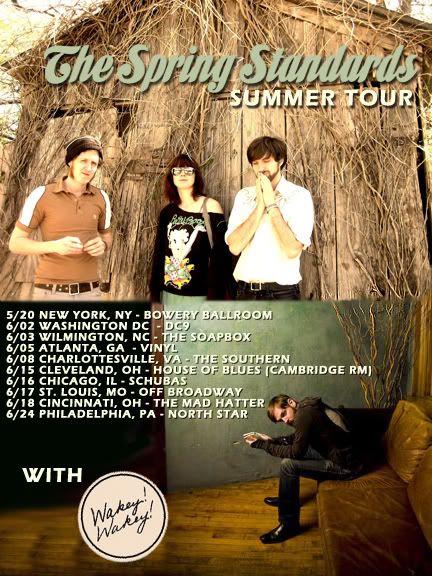 Below are all the dates including one in NYC at the end of this month at the Bowery Ballroom!

yours forever and truly,
JHJ

May 20 - The Bowery Ballroom - 9pm - w/ Wakey! Wakey! & Rosi Golan - For tickets
6 Delancy Street / New York, NY 10002 / 18+

June 2 - DC9 - 8:30pm - w/ Wakey! Wakey! - more info
1940 9th Street NW / Washington, D.C. 20001 / 18+

June 3 - The Soapbox - 8pm - w/ Wakey! Wakey! - more info
255 North Front Street / Wilmington, NC 28401

June 5 - Vinyl - 8pm - w/ Wakey! Wakey! - tix
1374 West Peachtree St. / Atlanta, GA 30301 / 18+

June 8 - The Southern - w/ Wakey! Wakey!
103 1st Street South / Charlottesville, VA 22902

June 15 - House of Blues (Cambridge Room) - 9pm - w/ Wakey! Wakey! - tix
308 Euclid Avenue / Cleveland, OH 44114 / All-ages

June 16 - Schubas - 9pm - w/ Wakey! Wakey! - tix
3159 N Southport / Chicago, IL 60657 / 18+

June 17 - Off Broadway - w/ Wakey! Wakey!
3509 Lemp Ave. / St. Louis, MO 63118

June 18 - The Mad Hatter - w/ Wakey! Wakey!
620 Scott St. / Covington, KY 41011

June 24 - North Star Bar - w/ Wakey! Wakey!
2639 Poplar Street / Philadelphia, PA 19130

------------------------
* Full List of Tour Dates

May 4 - The Venue at Kidd Coffee - Middletown, OH - tix sold at door
May 5 - Intersection Lounge - Grand Rapids, MI -opening for Enter the Haggis - tix
May 6 - Gabe's - Iowa City, IA - opening for Enter the Haggis - tix
May 7 - Holland Perf Arts Center - Omaha, NE - opening for Enter the Haggis - tix
May 8 - Ballydoyle Pub - Bloomingdale, IL - opening for Enter the Haggis - tix sold at door
May 9 - The Strutt - Kalamazoo, MI - opening for Enter the Haggis - tix
May 10 - Wilbert's - Cleveland, OH - tix sold at door
May 13 - The Ark - Ann Arbor, MI - tix
May 14 - The Loading Dock - Traverse City, MI - w/ My Dear Disco - tix sold at door
May 15 - The Loading Dock - Traverse City, MI - w/ My Dear Disco - tix sold at door
May 20 - The Bowery Ballroom - New York, NY - w/ Wakey! Wakey!&Rosi Golan - tix
June 2 - DC9 - Washington, D.C. - w/ Wakey! Wakey! - more info
June 3 - The Soapbox - Wilmington, NC - w/ Wakey! Wakey! - more info
June 5 - Vinyl - Atlanta, GA - w/ Wakey! Wakey! - more info
June 8 - The Southern - Charlottesville, VA - w/ Wakey! Wakey!
June 15 - House of Blues (Cambridge Room) - Cleveland, OH - w/ Wakey! Wakey! - tix
June 16 - Schubas - Chicago, IL - w/ Wakey! Wakey! - tix
June 17 - Off Broadway - St. Louis, MO - w/ Wakey! Wakey!
June 18 - The Mad Hatter - Covington, KY - w/ Wakey! Wakey!
June 19 - Amphitheatre at Station Square - Pittsburgh, PA -opening for The Clarks - tix
June 24 - North Star Bar - Philadelphia, PA - w/ Wakey! Wakey! - tix